Issues
Below are a selection of policy issues of concern to State Historic Preservation Officers.
Historic Preservation Fund
All across the country and in your neighborhood, the Historic Preservation Fund (HPF) has helped to recognize, save, and protect America's historic places. Created in 1976, the HPF is funded through a tiny portion of Outer Continental Shelf lease revenues – utilizing one non-renewable resource (oil and gas) in order to save another – our historic and cultural history. The HPF has not only helped to preserve and protect iconic sites and objects such as the historic homes of Emily Dickenson in Amherst, MA, Rosa Park's Bus, and the original Star Spangled Banner, but also places such as the historic main street of Deadwood, South Dakota or the historic streets of Charleston, South Carolina, where history and adventure opportunities spur the tourism industry and in turn provides local jobs and economic development to countless numbers of small and large and rural and urban communities coast to coast.
Historic Tax Credit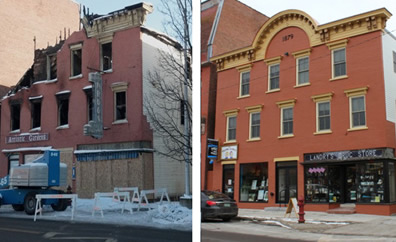 The Federal Rehabilitation Tax Credit, otherwise known as the Historic Tax Credit, is one of the most powerful historic preservation tools we have. Recognizing the cost associated with rehabilitating historic buildings, the Historic Tax Credit provides a 20% income tax credit to developers of income producing properties such as office buildings, retail establishments, rental apartments, and others.
Established first in 1976, since its inception, the tax credit has resulted in the preservation of more than 42,000 buildings and generated over $84 billion in economic development. In 2016 alone, 1,299 completed projects generated $7.16 billion in rehabilitation work and created 108,528 jobs.